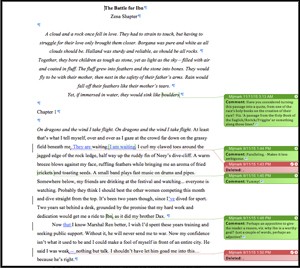 The Northern Beaches Writers' Group welcomes committed writers with publication or republication as their goal. We are not really a group for those who write for a hobby.
What do meetings involve?
Well in advance of every meeting, our leader Zena Shapter arranges for two or three members to email around some work. Fellow members then read and review that work in advance of our next meeting, when we discuss our findings as a group and give as much constructive feedback as possible. For this reason, if you would like to attend a meeting, you must contact us prior to attending. You will need to bring your feedback with you and be ready to discuss the works in question. While meetings are free to attend, we ask that you always buy yourself a drink at the bar to enjoy during the meeting, as this enables us to maintain a pleasant ongoing relationship with our venue. We also ask that you help us return the venue's tables and chairs to where they were before the meeting so we leave the venue as it was – ready for other guests.
How do I 'bring my feedback' to meetings?
Generally our members print out copies of the works being reviewed and mark their comments in the margins, or make comments in Word or Google docs using 'tracked changes' then print out the document (or email it to the author if they're happy to receive e-crits). After discussing the works together as a group, we hand our notes over to the respective authors so they can ponder their various critiques in more detail later. This also allows us to focus on thematic and structural issues during the meeting, while also informing authors of typos, punctuation and grammatical errors. For more guidance on giving constructive criticism, please pop over to Zena's article 'Five Tips For The Unsure Critiquer: Need it be fair?'. When members submit their work for critique, it must comply with NBWG submission requirements as set out in this PDF, both out of respect for those giving their time to critique and for ease of reading.
When do you meet?
We meet one Saturday each month at the Manly Bowling Club, Manly, 11am-1pm. Apart from buying yourself an obligatory drink (tea, coffee, hot chocolate, soft drink or anything more *ahem* inspiring that you might fancy at 11am!), the cost of attending meetings is free. Contact us for the date of our next meeting.
Who attends meetings?
Some of our members have been writing for many years, some have always wanted to write but are only just getting around to it. All of us seek critical but caring input from like-minded souls to help us get closer to publication or re-publication. The one thing we all have in common is that we're committed to our craft.
Want to know more?
If you have any more specific questions, please don't hesitate to ask by contacting us – but first make sure you've first read about us and our membership requirements.
Save
Save
Save